Dean Lewis Promoted to Senior Vice President of Taylor Bank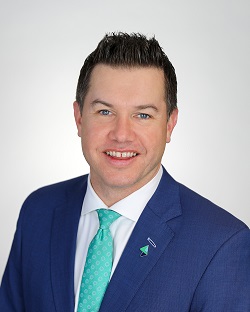 BERLIN, MD (May 17, 2021) - Raymond M. Thompson, President and Chief Executive Officer of Taylor Bank has announced that M. Dean Lewis has been promoted to Senior Vice President of the Bank.
Mr. Lewis joined Taylor Bank in January 2012. He came to Taylor Bank with 10 years of public accounting experience, the majority of which was spent with PricewaterhouseCoopers, LLP in Baltimore, MD, where here served as Tax Director. His diverse financial background includes roles in accounting, compliance, audits, banking, SEC filings, and Sarbanes-Oxley internal control documentation.
After joining Taylor bank, Mr. Lewis was promoted to Assistant Vice President in 2013 and was elected to the Board of Directors in May 2014. He was promoted to Vice President in 2015. Dean serves as Chief Financial Officer of the bank and Treasurer of the holding company.
Mr. Lewis is a native of Berlin, MD. He graduated from Stephen Decatur High School in 1998, and attended the University of Maryland where he received a B.S. degree in Accounting in May 2002. He received an M.S. degree in Taxation from American University in August 2008. Mr. Lewis returned to the Eastern Shore in October 2010 and currently resides in Berlin with his wife and three children.