Quotes
The ticker symbol for Calvin B. Taylor Bankshares, Inc. stock is "TYCB". TYCB stock is publicly traded and currently trades over-the-counter on the OTCQX Banks stock market. For the latest stock trade information and current quotes for buying or selling TYCB stock please visit the OTC Markets website using the link provided below.
Transfer Agent
American Stock Transfer & Trust Company, LLC
6201 15th Avenue
Brooklyn, NY  11219
1-800-937-5449
Stock Repurchase Program
The Board of Directors has authorized the repurchase and retirement of up to 300,050 shares of TYCB stock. The timing and amount of repurchases, if any, will depend on market conditions, share price, trading volume and other factors, and there is no assurance that the corporation will repurchase any shares. The corporation may acquire the shares from time to time in open market transactions, via privately negotiated transactions, in block purchases or otherwise, and may suspend the repurchase program at any time.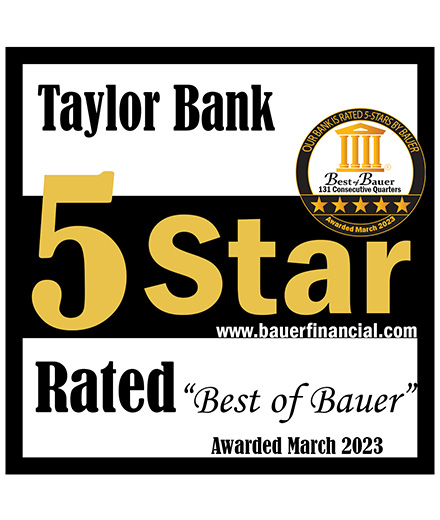 Taylor Bank has received the Bauer Financial 5-Star Rating for 131 Consecutive Quarters