Taylor Bank Pledges $50,000 to Wor-Wic Community College
BERLIN, MD (July 7, 2022) – Taylor Bank recently pledged $50,000  to the Wor-Wic Foundation in support of the college's "Preparing For a Stronger Tomorrow" campaign. The funds will support high-tech equipment, modern classroom space, and training facilities in the Patricia and Alan Guerrieri Technology Center now under construction, as well as other new technology across campus. It will also provide financial support for students in need.
"Wor-Wic is a critical resource for educational opportunities on the Eastern Shore," said Ray Thompson, President and CEO of Taylor Bank. "We are enthusiastic to embark on this partnership to help expand technology facilities to meet the needs of students and serve the community better."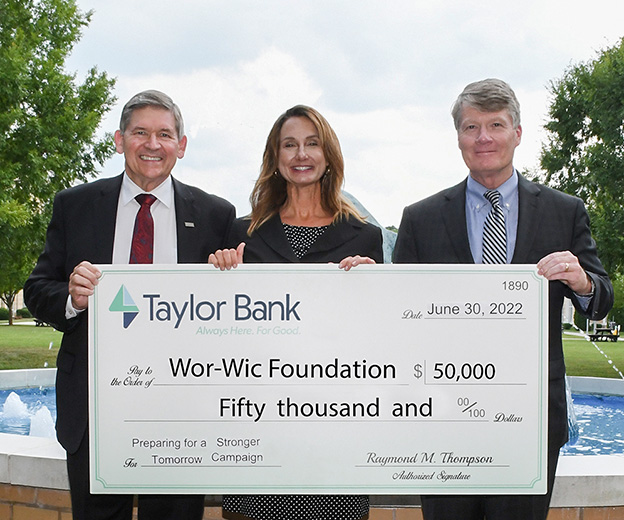 Pictured from left: Dr. Ray Hoy, President, and Stefanie Rider, Executive Director of the Foundation at Wor-Wic Community College accept a donation of $50,000 from Ray Thompson, President and CEO of Taylor Bank.