Sure, you'll find us hard at work at a dozen Taylor Bank branches. But you'll also find us all over the Eastern Shore - sponsoring local events, honoring outstanding students and providing financial support for worthy causes. Why is community involvement such a major part of our culture? Easy answer: We live here. It's our community, too.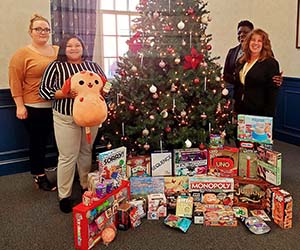 Thank you to our very generous customers for their donations, and our caring staff for all their efforts during the Toys For Tots Campaign this season! Pictured are employees from our Snow Hill Branch, which was one of eleven locations that helped support the campaign.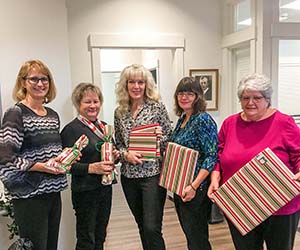 Christmas Spirit Campaign
Several of our team members joined up with the Young Professionals of Ocean City to volunteer for the Annual Christmas Spirit Campaign. Our Ocean Landing Team is pictured with a few of the gifts they shopped for and wrapped.  They adopted 8 children.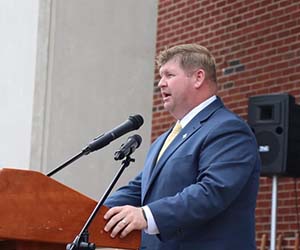 ESCC 50th Anniversary Celebration
Adam James, Taylor Bank Vice President, Loan and Business Development Officer, shares some words at the ESCC 50th Anniversary Celebration and Ribbon Cutting of the ESCC Academic Building, of which the Bank was the lead sponsor.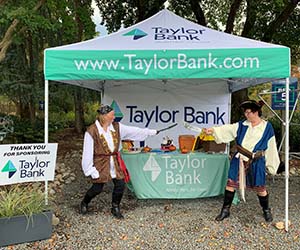 Taylor Bank was proud to sponsor Whimsical Woods at Lord's Landscaping in Millville, DE. All proceeds from the event benefitted Ball 4 All Foundation, which strives to help provide more opportunity for youth in the community.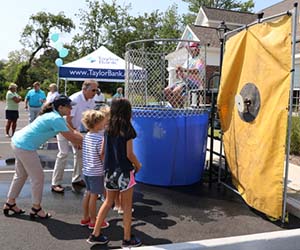 Customer Appreciation Day
Taylor Bank welcomed the Onley community for a fun-filled Appreciation Day to celebrate it's 1-year anniversary.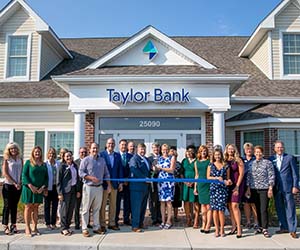 Onley Branch Ribbon Cutting
Taylor Bank was delighted to host a business after hours in partnership with the ESVA Chamber to celebrate the 1-year anniversary of the opening of it's Onley Branch.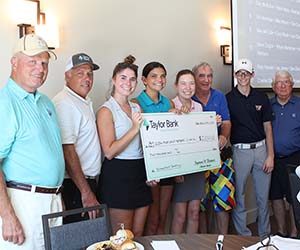 Junior Golf Scholarship Tournament
Taylor Bank was proud to partner with the Ocean Pines Golf Members' Council for the Annual Taylor Bank/Ocean Pines Junior Golf Scholarship Tournament. Proceeds from this event benefit local youth golf programs and scholarships.
Taylor Bank President & CEO, Ray Thompson, along with Board Member John Custis, and Vice President Adam James present a check for $20,000 to ESCC Foundation  President Jim Shaeffer in support of ESCC's 50th Anniversary
Calvin B. Taylor Scholarship
Taylor Bank awards three area high school seniors the Calvin B. Taylor Memorial Scholarship.
Pictured is Cory Walsh, AVP, Loan & Business Development Officer and Doreen Angelo, AVP, Branch Manager/Relationship Officer,  presenting the scholarship certificate to Victoria Noon at at the Ocean View, DE Branch.